The implementation of the Rebranding project continues in accordance with the Company's plans.
The next lucky ones who moved to a new office space were colleagues from the branch of the SNS-Yuzhno-Sakhalinsk!
The team positively noted the housewarming with a cake from the Company, appreciated the new workspace created in accordance with the highest standards of comfort, practicality and design, and shared their impressions of the move:
Anton Kapura, General Director of the branch:
"I will say with words of one of our clients: The new office is just a bomb!
In my opinion an amazing combination of design and technical solutions"
Albina Pak, Chief Accountant of the branch:
"The new office is definitely pleasing: bright, clean, excellent furniture. I come to work every day in a great moodJ. Especially I would like to note that we have a coffee point where employees of our branch have a lunch with comfort"
Pavel Nikitin, Sales Representative for wholesale customers:
"Only after crossing the threshold of the new office, I immediately appreciated the comfort, excellent color scheme, as well as the excellent location of the employees' workplaces. I would like to pay special attention to our coffee point, where after a working day you can relax a little bit and discuss working moments with colleagues"
Congratulations to the team of the SNS-Yuzhno-Sakhalinsk branch on the move!
We wish you good luck and new victories!
Rebranding is one of the large-scale and significant projects of GC SNS, in the framework of that the company's branches all over the country are gradually implemented updated standards for finishing and equipment of office and warehouse spaces.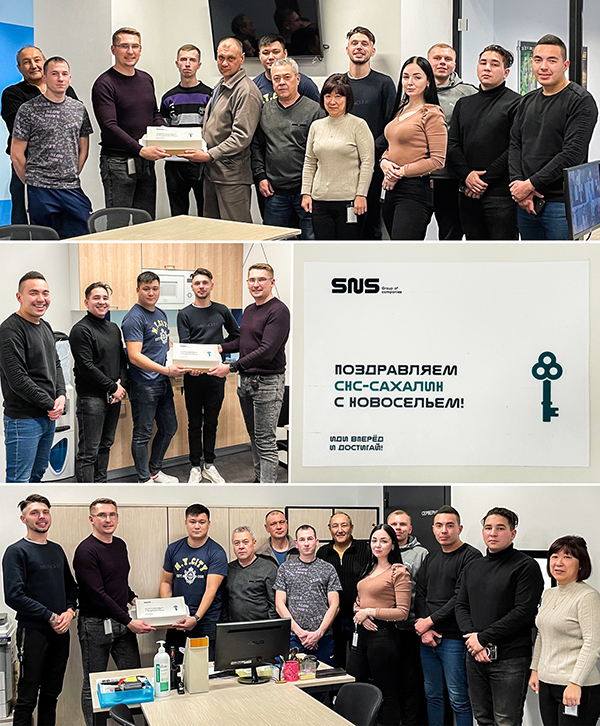 Source:
press office of SNS GC