The Rebranding project keeps going on!
SNS-Chita has become the next branch that celebrated the housewarming.
The team appreciated the new workspace created in accordance with the highest standards of comfort, practicality and design and shared their impressions:
Nikolay Rekunov, General Director of the branch:
"The chic and comfortable office has added a positive attitude to the team. Our new large warm garage deserves special attention. I am sure that all this will have a great impact on business processes."
Tatiana Nelyubova, Head of the branch warehouse:
"A great bright, warm warehouse. New equipment: electric stacker, carts, metal racks for placing goods. New driveways. We are very glad that now the office and warehouse are very close – it's enough to get up and discuss current issues. We have excellent working conditions, which means a fighting spirit!"
Anastasia Strizhak, Sales Representative:
"Our new two–storey office is a benchmark of how work and business processes should be organized.
The room itself is space, with high-quality and modern renovation, with new comfortable furniture. There is a break room where we can have tea/coffee after a productive working day. Everything is done for the convenience and comfort of employees. The team is happy with such new changes. Now we will "Go forward and achieve" with even greater ambitions."
Congratulations to the branch of SNS-Chita on the housewarming!
We wish you success and new achievements.
Rebranding is one of the large-scale and significant projects of SNS GC, within the framework of which updated standards of finishing and equipment of office and warehouse premises are being gradually introduced in the Company's branches throughout the country.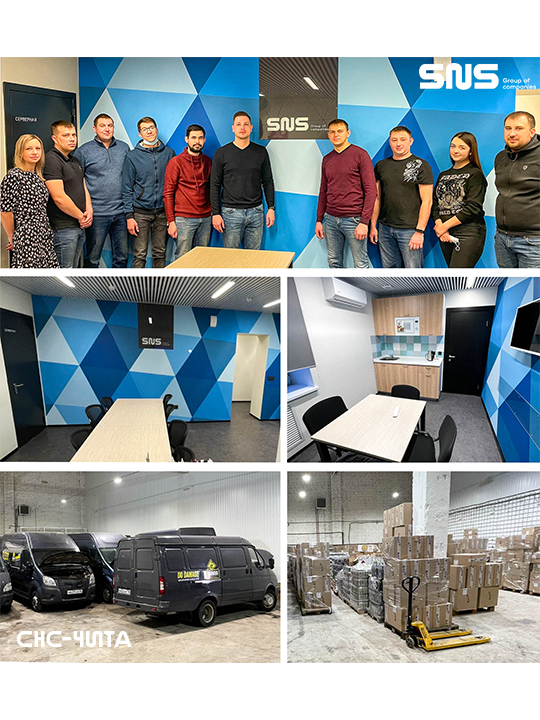 Source:
press office of SNS GC