From July 7 to 10, for the first time in the south of Russia, in Rostov-on-Don, the grand electronic music festival TRAP MUSIC FESTIVAL 2022 by EMBARGO VILLA will be held with the support of E-ON ENERGY DRINK:
- 4 days non-stop;
- 100 DJs;
- fantastic performances;
- 4 independent dance floors;
- showcases* from famous promo teams of the country: Gazgolder; Highway; Hey, Location; Hypnotica; UFO; APPLIQUE; ORBITA; CHUVSTVA RITMA and others.
Representation of E-ON ENERGY DRINK:
- broadcast of the brand on all screens of the festival;
- integration of the brand into the main show on the MAIN and FOREST dance floors;
- integration into the laser show above the pool;
- a brand moment with a welcome drink in the most prestigious VIP bar of the venue;
- additional refrigeration equipment in the Dj area;
- special menu;
- spec. inserts into light panels with communication for the consumer.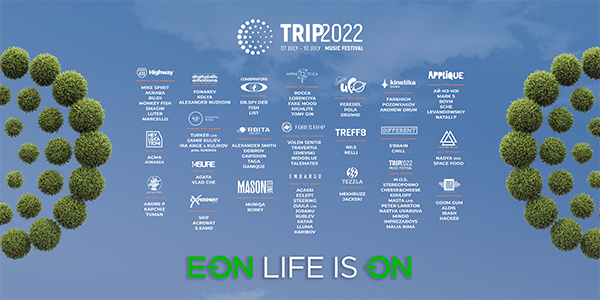 Source:
press office of GC SNS