SNS GC TOOK PART IN THE MAIN SMOKY FESTIVAL OF SUMMER — JOHNCALLIANO 2023, HELD ON AUGUST, 12 IN THE MOSCOW REGION (NPC RUS).
JohnCalliano is the largest hookah festivals in the open air format, which every summer, since 2017, provide guests with the opportunity to experience the unique theme of the event, bringing together leading foreign and Russian brands in one place.
The event is attended by key industry representatives, partners, opinion leaders and consumers.
Traditionally, the organizers of the festival set a certain theme, which is reflected in the design of the space and in the dress code of participants and guests. JohnCalliano 2023 was held in the theme of Gypsy Fest.
THE GC STAND OCCUPIED AN AREA OF 240 SQ. METERS AND CONSISTED OF VARIOUS ZONES:
- CNPT SHIFT, CNPT BLADE and i:FORCE vaping tasting zone;
- device sales area;
- B2B zone (for negotiations with potential partners);
- lounge area for tasting a new product under development;
- Marco Polo cigarilla tasting lounge area;
- E-ON and FRESH BAR bars;
- photo zone;
- an activity zone with engaging activities in the theme of the event and raffles of gifts from GC brands.
THE RESULTS:

- 80+ brands (ESDN, tobacco, mixtures, hookahs and accessories), including brands of SNS GC, presented at the festival;
- GC held >60 productive meetings with potential partners;
- 3,500 prizes from GC brands were raffled off;
- 1,500 cocktails were poured on the basis of E-ON and FRESH BAR;
- >10,000 guests of the festival, of which >4,000 guests visited the GC stand, among them – well-known bloggers from the hookah and vape industry, who shared with their subscribers in social networks positive impressions of the GC stand and brands:
- Dava Smoke (audience 5,3K);

- HardHookahChannael (audience 4,5K);
- Kirill Tesla (audience 11.8K);
- K Expert (audience 5,9K);
- Phil (audience 4,8K);
- Kurin Smokes (audience 2.2K);
- Mikhail Bukharev (audience 24K), etc.
Full photo report from the event: HERE.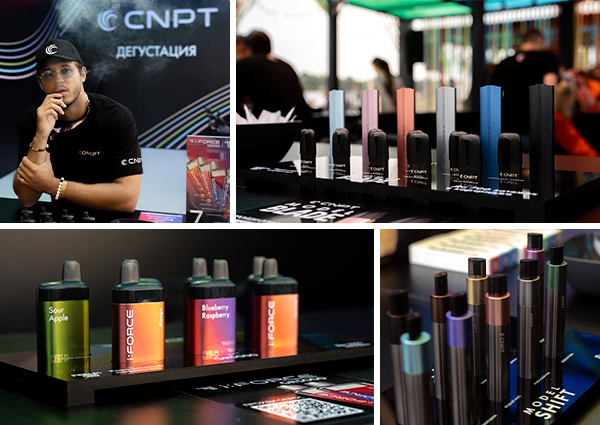 Source:
press office of SNS GC