FRESH BAR summed up the grandiose results of the VK challenge #EMOTIONFRESHBAR, which took place in September-October 2022.

The key ones are:

- 75.2 million - total number of views of promo videos and clips;
- all planned indicators have been exceeded: for example, the plan for all impressions by 129%, and the plan for transitions by 234%;
- record number of challenge participants in the category "food and beverages" on the VK Clips platform (including due to simple mechanics) = 1,405 unique users.

We remind:

- conditions:
the participants were supposed to use a branded FRESH BAR mask and a licensed track to complete the task and upload the video to VK with the mark #EMOTIONFRESHBAR;

- support from bloggers (the total number of views of bloggers' clips is more than 13.7 million): FRESH BAR brand ambassadors Valya Carnival and Nilleto, as well as Katya Adushkina, Anya Pokrov, Karina Cross, Danya Milokhin, Sasha Ice, Mia Boyka, Sopha Kuper, Katya Golysheva, Maha Goryacheva, Yulia Godunova, Marusya Klimova, Tilljnyaschka, Ira Blanc.

- prizes:
the winners received certificates on the OZON online store.

Refresh your emotions with FRESH BAR!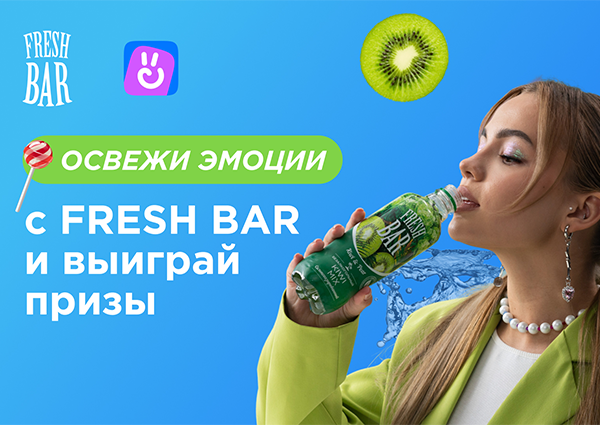 Source:
press office of SNS GC