On September 22 a party will be held in St. Petersburg with the support of E-ON, with the performance of electronic duo VOLAC, which achieved success and has been recognized all over the world.
Having defined the boundaries of their sound between deep house, base house and trendy g-house, VOLAC quickly managed to develop their own recognizable sound, which was noticed by numerous colleagues. Deep bass lines, energetic groove – VOLAC can create the perfect music for the dance floors.
The following releases are in the list of the most significant achievements of the project: solo EP Wonder Why with the main hit Drug Dealer on CUFF Records. The second is the great hit Get Tipsy recorded together with the German producer Sharam Jey.
In 2016 VOLAC began working closely with American label Night Bass releasing the solo hits Grow Up and Do Ya Thing. The tracks received support fr om Dillon Francis, Destructo, AC Slater, Malaa, Mike Mago and other powerful performers.
In any of their creative embodiments VOLAC sounds convincing. Especially in the framework of club sets, wh ere they skillfully combine all the best what electronic music is able to give to the listener.
The best house-sounds, the charge of drive and energy from E-ON ENERGY DRINK will make this party unforgettable!
Location:
Mint Music Bar, St. Petersburg, Liteiny Avenue, 36
More about the party:
VK
Instagram
Join the night with E-ON ENERGY DRINK!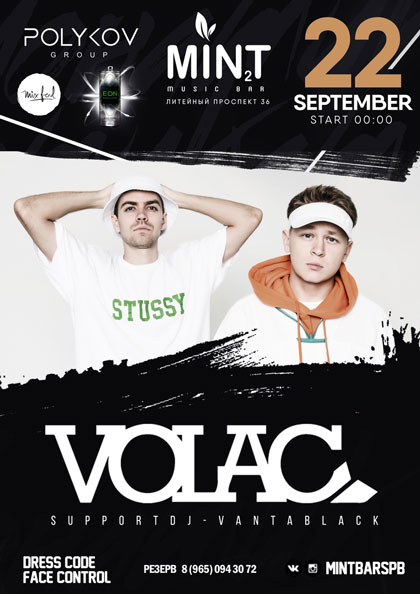 Source:
GC SNS Press Service