TORNADO ENERGY is supporting the screening of the film Deadpool 2 in Russia and the CIS: the film goes on release on May 17. Although almost a month has passed since the next part of the story of the hooligan in red and black's came out, Deadpool 2 is still the most popular film now on release.
The secret of its success is partly due to the TORNADO ENERGY's powerful publicity campaign: as part of the campaign TORNADO issued 6,000,000 cans with an exclusive Deadpool 2 design, and is holding a super competition (which already has at least 100,000 active participants - and more are joining all the time!).
The competition started in April and has two stages. In the first stage (which took place on May 13) participants competed in a prize draw for great TORNADO ENERGY and Deadpool prizes, and also for the main prize - tickets to an exclusive private screening of the film, followed by an after party. The luckiest Deadpool fans, from all over Russia, were the first to see the film, a day before its official opening, and then they attended the grand opening party alongside the main hero of the film.
Just like the screening of Deadpool 2, the TORNADO ENERGY competition, with weekly prizes, is continuing (until June 30)!
List of prizes:
- sets of souvenir merchandise;
- cases of TORNADO ENERGY;
- a subscription to watch Deadpool on IVI;
- Nintendo Switch games consoles.
Who can win prizes in the draw:
any person over the age of 18 (ATTENTION: HOORAY! Employees of the SNS Group can also take part in the competition).
Terms and conditions:
join the TORNADO ENERGY group on VK, complete a task set by the chatbot, and enough points to win prizes: solve rebus puzzles, do tests and tell your friends.
Every week there are new tasks and prize draws, so participants can earn more and more points.
There is another excellent way to earn more points - by keying in the code printed under the ring pulls or caps from the special TORNADO ENERGY cans or bottles.
Photo report from the Deadpool-style party: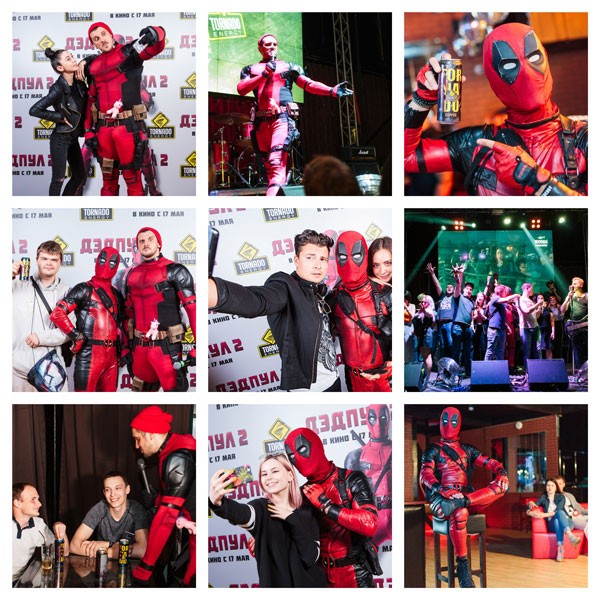 Source:
GC SNS Press Service