The cybersports team TORNADO ENERGY Battle was only founded at the beginning of 2018, but it has already achieved impressive results: its performance in the closed CIS qualifying round got it into the LAN final of the PGI CIS Qualifiers, the last selection stage of the PUGB Global Invitational 2018 tournament (PGI 2018). There are three stages to the selection process: the open qualifying round, closed qualifying round and the LAN final.
The LAN final will be held in Minsk from June 21-24, in the ultra-modern stage of the Falcon Club, which has more than once been at the epicentre of battles between gamers. But the PGI CIS Qualifiers will be the most important tournament to be held in the venue, as well as the main cybersports event in Belarus this year: the teams in the tournament will play 20 matches against each together, competing for the $100 000 prize, and the two strongest teams will travel to Berlin to take part in the PUBG Global Invitational 2018. In Berlin, the 40 strongest teams from around the world will battle each other for the main prize of $2 000 000.
More details on the event: starladder.com
Learn more about the TORNADO ENERGY Battle team: VK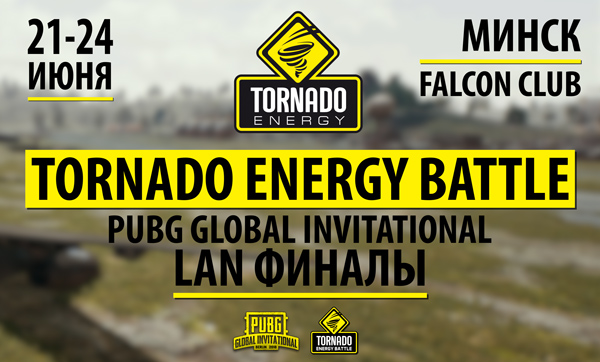 *PUBG (PLAYERUNKNOWN'S BATTLEGROUNDS) is a shooting game in which the last player standing wins. Players start the game with nothing and have to find their own weapons and ammunition and fight for the first place and to become the last hero. In this realistic game a tense battle takes place on Erangel, a huge 8km by 8 km post-Soviet island in the Black Sea. This is more than just a game. It is a Battle Royal!
Source:
GC SNS Press Service