The Rebranding project once again delights with positive news: the team of the SNS-Komsomolsk-on-Amur branch now also works in a new office space!
Colleagues positively noted the housewarming with cake from the Company, appreciated the new workspace created in accordance with the highest standards of comfort, practicality and design, and shared their emotions from the move:
Evgeniy Chuhrov, Regional Manager of Far Eastern Federal District, Trade Marketing and Distribution Department:
"The branch team is happy to have a new office, where everything is thought out and made for comfortable and productive work. Especially pleased with the presence of a break room, where they can comfortably have lunch.
Also I would like to mention a new warehouse with an excellent super-comfortable floor, that makes it possible to effectively use the electric stacker for unloading/loading products"
Natalia Novogrodskaya, Chief Accountant of the branch:
"A nice, clean and comfortable office. In such conditions, we have certainly become even better and, of course, even more positive :)"
Alexey Kharisov, Sales Representative:
"A beautiful, modern, cozy office, where it is nice to be.
At the housewarming party, it was nice to get a delicious cake from the Company. Thank you SNS! "
Congratulations to the team of the SNS-Komsomolsk-on-Amur branch on the move!
We wish you good luck and new victories!
The implementation of the Rebranding project continues in accordance with the Company's plans.
Rebranding is one of the large-scale and significant projects of GC SNS, in the framework of that the company's branches all over the country are gradually implemented updated standards for finishing and equipment of office and warehouse spaces.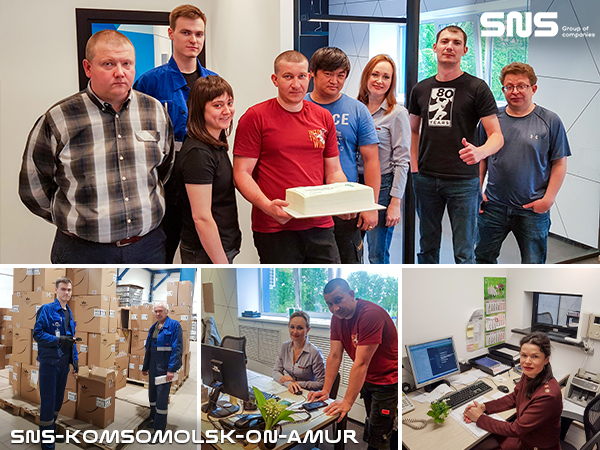 Source:
Press office of GC SNS