On October 16 2018 Staff party will be held at the IzI bar (Tyumen) with the support of E-ON ENERGY DRINK - a party for those who cannot afford to rest at weekends and on public holidays, as they are responsible for the atmosphere in the establishments and set the mood for guests.
The headliner of the party for barman, DJs, waiters, hosts of events and other representatives of the entertainment industry will be the electronic duo VOLAC, which has achieved success and recognition not only in Russia, but also far beyond its borders: touring the United States, Australia, Brazil, Europe and performing at the best festivals of the world such as EDC Las Vegas, Holy Ship, HARD Fest and many others.
Having defined the boundaries of their sound between deep house, base house and trendy g-house, VOLAC quickly managed to develop their own recognizable sound, which was noticed by numerous colleagues. Deep bass lines, energetic groove - VOLAC can create the perfect music for the dance floors.
The musicians demonstrate their style through animated comics, which are timed to release or their branded podcast Volacast. Each Volacast includes a guest mix from VOLAC friends. The heroes of comics are very similar to musicians in real life: they have the same style, habits, and behavior.
Location:
bar IzI, Tyumen, st. Pervomayskaya, 14a
More about the party:
VK
Join the night with E-ON ENERGY DRINK!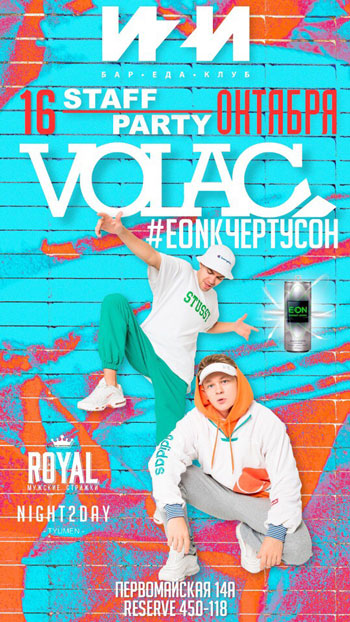 Source:
GC SNS Press Service