In St. Petersburg (August 5) and in Moscow (August 18) with the support of E-ON ENERGY DRINK the large-scale music festival Rhymes Show Episode 2 will be held. The event will bring together young, daring and promising performers who set the tone for the youth cluster of the Russian show business.
Headliners of the venues of both capitals will be LSP, ATL, Poshlaya Molly, Obladaet. Also among the participants of the festival will be: rap avant-gardist Jacques Anthony; Lizer - a talented artist with an excellent feel for viral choruses; new stars of Russian pop Malbak & Suzanna; shrill Grechka; conductor of space energy Gone.Fludd; the mysterious hip-hop duo Velial Squad; Internet Prince Egor Nats and virtual pop-punk band Friend zone. In addition, Feduk will perform at the Moscow event, and Markul -in Saint Petersburg.
A powerful charge of energy and positive for a multi-hour music marathon and energetic dance will be provided by E-ON ENERGY DRINK.
About the event:
The Rhymes Show is just one year old: it was first held in Moscow in 2017 and the success of the event was so significant that for the second episode of the festival in 2018, the organizers expanded the geography of the project and chose more spacious venues.
Dates and locations:
August 5 - Saint Petersburg, Street Art Museum, Revolution Road, 84
August 18 - Moscow, Cition Hall, Shmitovsky drive, 32A
More information about the event:
rhymesfest.ru
VK
Join the night with E-ON ENERGY DRINK!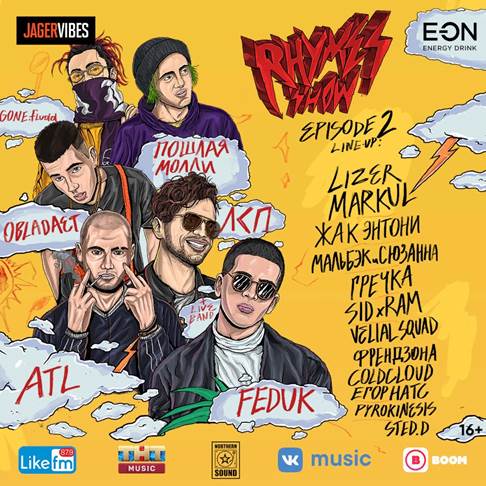 Source:
GC SNS Press Service