On July 27, the PLATINUM club (in Kaliningrad) will host one of the most popular artists of the pop-rap scene - Zomb. His work is characterized by a harmonious combination of electronic music and hip hop, which energized the drive of all the fans in the dancehall. His rapping, which includes elements of love lyrics, has haunted many since 2015, although Zomb's songs only achieved wide popularity in 2018. And today he is certainly gaining fans, both at concerts and on social media.
At the PLATINUM club, Zomb will perform his new songs and his greatest hits.
The blast of unquenchable energy will be provided by E-ON ENERGY DRINK.
Venue: The PLATINUM club, Kaliningrad, D. Donskogo street 29.
Details about the event: club-platinum.ru
Join the Night with E-ON ENERGY DRINK!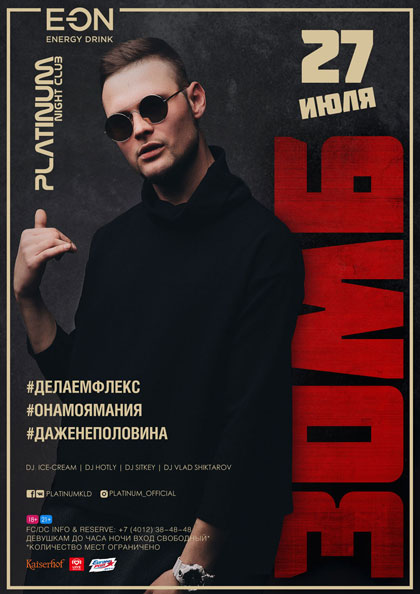 Source:
GC SNS Press Service