On December 22 2018 with the support of E-ON a party organised by the Abstrasensiya Project will be held in the Tavrichesky Gardens Greenhouse (Saint Petersburg).
Abstrasensiya is a creative group dedicated to making ambient electronic music and developing this type of music in Russia. The project started in 2012, with performances by local producers in small venues in Saint Petersburg. Six years later, Abstrasensyia has organised 20 major festivals in Saint Petersburg, Moscow and Ekaterinburg, featuring leading ambient electronic musicians from Russia and around the world, and more than 50 concerts with Russian and foreign musicians, and the project has its own label and a successful approach to production.
The project has gained an important place in Russian musical life and has had a big influence on the development of ambient electronic music in the country.
Abstrasensiya puts a great deal of care and effort into choosing the line up for all its events, and the party, in the shade of the Greenhouse's tropical palms, will combine a wide range of musical styles, from calming ambient and lovewave to dynamic bass and IDM.
Location:
Tavrichesky Gardens Greenhouse, 43 Shpalernaya Street, Saint Petersburg
More about the party:
VK
Join the night with E-ON ENERGY DRINK!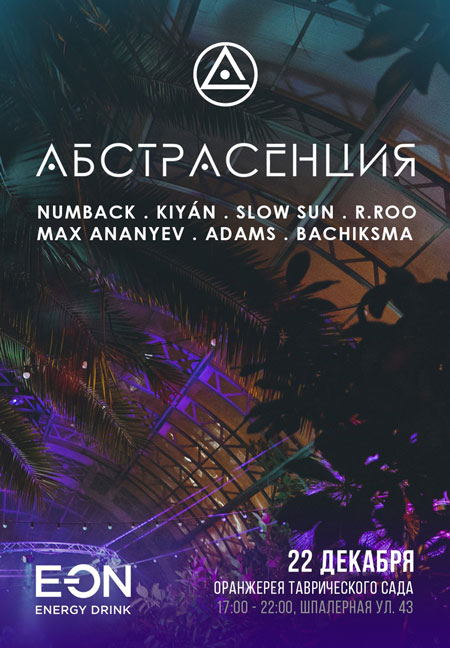 Source:
GC SNS Press Service