The evening's main guest will be MONOPLAY – who is based at the Kryshi Mira club and is a regular performer at fashionable venues in the capital and cutting edge events: an artist who creates musical magic in his tracks.
MONOPLAY is the pseudonym of the talented Moscow artist Raha Medzhidov.
He started out in 2005 and during his successful career he has performed for famous labels and also as part of the "live" deep house-team Dual Deep and in Zero Freq - a duo act with Ivan Latyshev.
Currently Raha is putting all his creative energy into his new live project. He has wide experience as a musician, DJ and vocalist, and is successfully combining all these aspects of his talent in the MONOPLAY project.
The MONOPLAY live performance will be a real spectacle, and guests at the party will definitely not have the chance to get bored!
Location:
Warpp Club, 53 Liteiny Prospekt, Saint Petersburg.
More about the party:
VK
Join the night with E-ON ENERGY DRINK!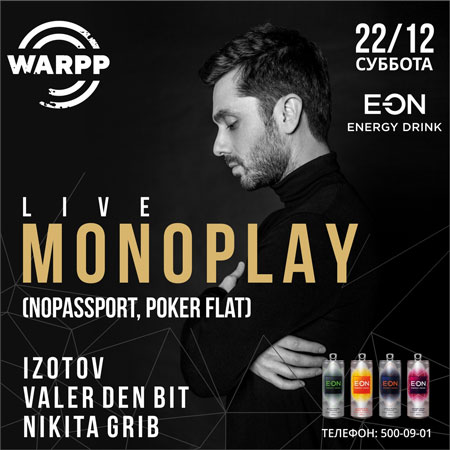 Source:
GC SNS Press Service