Summer is the best time to relax on the sea coast of the South of Russia with refreshing drinks FRESH BAR! That is why the brand conducted a large-scale advertising campaign there aimed at tourists and local residents.

Stylish image materials were placed on billboards and city formats in the cities: Anapa, Astrakhan, Gelendzhik, Essentuki, Krasnodar, Novorossiysk, Rostov-on-Don and of course Sochi. In total more than 160 advertising structures were involved in locations with a large traffic of people!

According to the results of July in retail location of Magnit in the cities of the advertising company, the high efficiency of the campaign from FRESH BAR was noted, which contributed to an increase in sales.

Also the FRESH BAR brand won new consumers who highly appreciated the naturalness and flavor of the drink.

Taking into account the success of the July program, it was decided to extend the advertising campaign in the cities of the Black sea coast in August, in the framework of which more than 70 advertising media will be involved.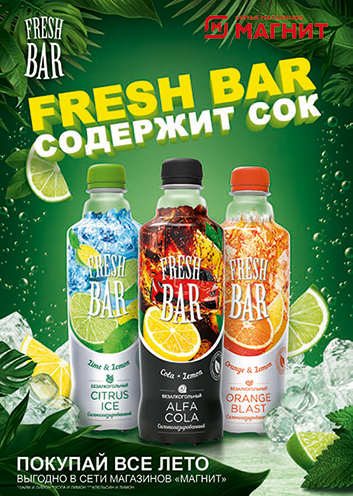 Source:
press office of GC SNS