Foucault's Pendulum a festival of new rap music presented by Radio Record took place on March 23 2019 in Saint Petersburg's Yubileyny Sports Palace with the support of E-ON.
The all-star line-up featured the most trend-setting and popular artists working today (GONE.Fludd, ATL, МORGENSHTERN, Boulevard Depo, OBLADAET, MNOGOZNAAL, Tima Belorusskikh, bollywoodFM, BUMBLE BEEZY, OFFMi. and others), and a spectacular show, powerful sound and of course excitement and energy from E-ON ENERGY DRINK: participants and guests enjoyed all this and more at Foucault's Pendulum 2019!
The many thousand-strong audience partied the night away in step with their favourite hits and the event broke all records for numbers of viewers over the Internet and social networks. On that evening the city was filled with kilotons of sound from the music of today's young people and the rhythm they live by.
On April 5 Foucault's Pendulum with the support of E-ON ENERGY DRINK will hit Moscow. City residents and visitors alike will be able to ride the waves of the latest rap music in this powerful rave.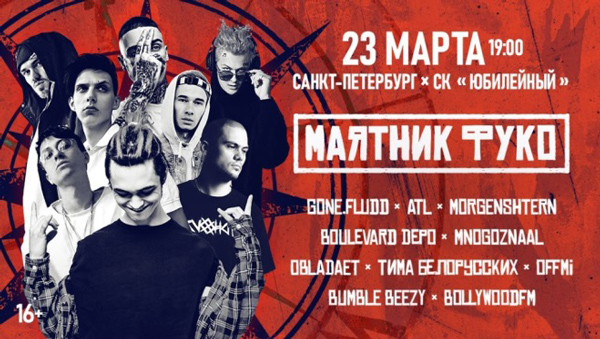 Source:
GC SNS Press Service