On September 22 in Moscow with the support of E-ON ENERGY DRINK a party will take place the main guest of which will be the legendary Dutch DJ Rene Amesz. Having started his musical experiments at the age of 6, drumming with Chinese chopsticks on furniture and toys, today Rene Amesz is one of the most authoritative DJs in Holland. His tracks are easy to tell by special handwriting, distinctive features of which are a combination of percussion instruments and bass lines.
The first performance of Rene Amesz as a DJ took place in 1996 in the club Blue Lagoon in his hometown of Rotterdam. Playing tracks from Kadoc and The Pizzaman, he hoped that his dream to write his own music would come true very soon.
In 2002 Rene Amesz first appeared on the radar of the Dutch dance stage with his sets. His project Melvin Reese immediately reached the first place in the national dance chart and was supported by such DJ-heavyweights as Sander Kleinenberg, Karl Cox and Denny Tenaglia.
After this rise the popularity of DJ Rene Amesz continued to grow rapidly, and the partnership with the famous producer center and the Extrema label brought it to the same level as the world-famous Dutch DJs.
Unique tracks from the famous DJ in combination with the charge of energy and drive from E-ON will make this night unforgettable!
Location:
Duran Bar, Moscow, Rochdelskaya Street, 15, building 19/20
More about the party:
FB
VKLUBE
Join the night with E-ON ENERGY DRINK!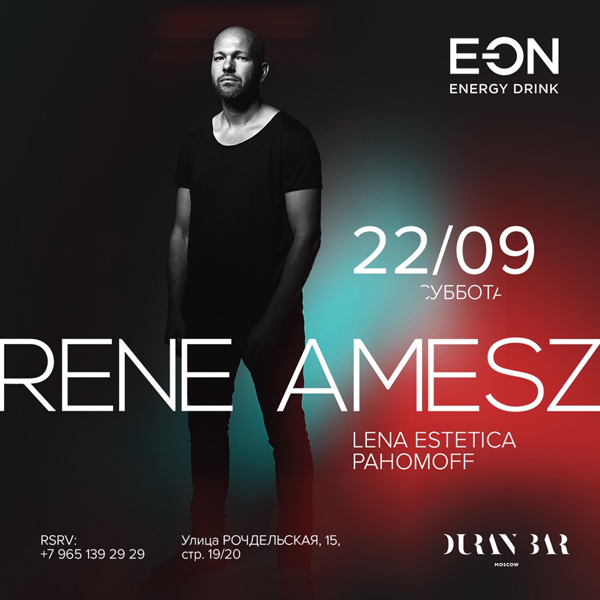 Source:
GC SNS Press Service