The ESports TORNADO ENERGY team demonstrates another super success:
from 17 to 20 October in Berlin was held the 3rd phase of PEL Promo discipline PUBG in which the team taking III place in the standings, went to the European division of the official League of PUBG (PEL)!
During the four game days the rapid movement of teams in the standings did not allow to make any predictions and kept all the participants and fans in suspense.
But TORNADO ENERGY team by overcoming all difficulties got around the strongest teams of PEL Contenders and secured a place in the PUBG Europe League.
This is a really smashing victory!!!
About tournament:
PEL Promo is a promotion tournament between PEL Contenders and PEL in which the top 12 PEL Contenders teams battle 4 PEL outsiders. In this stage 16 teams take part the 4 strongest go to PEL.
PUBG Europe League (PEL) it is the top division of the competitive league in Europe. 16 teams take part in PEL that fight every week to take the League championship, win prizes and get tickets to the PUBG Global Championship.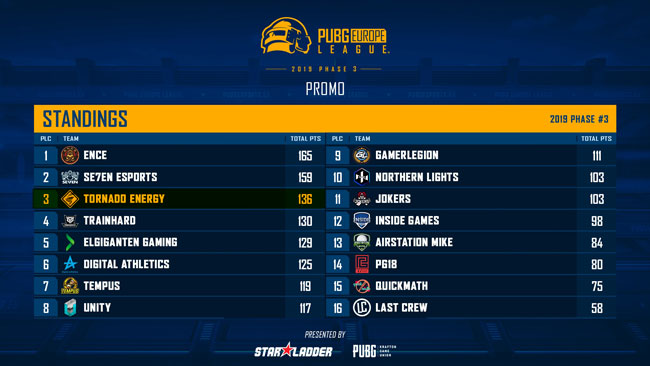 Source:
GC SNS Press Service