SNS-Volgograd became the third branch since the beginning of 2021 to celebrate a housewarming party in the framework of the Rebranding project!
Housewarming traditionally did not go without a cake from the Company and positive feedback from colleagues:
Anatoly Plotnikov, General Director of the branch:
"The new office is an excellent additional motivator for even more effective work. The whole team is positive. I am sure that with new impressions we will rush to new victories!"
Viktor Ivanov, Assistant General Director of administrative matters:
"The new office is a solid pluses: comfortable conditions, high-quality repairs, the presence of a break room. I really like everything and I have heard only positive comments from my colleagues"
Sergey Soshin, Sales Representative:
"The new office is wonderful: it is convenient and comfortable for the whole team to work. I really like that now we work in one common open space and all work issues are resolved even more quickly. In general, only positive impressions from the move"
We are sure that the new workspace, created in accordance with the highest standards of comfort, practicality and design, will inspire the SNS-Volgograd team to conquer new peaks!
The implementation of the Rebranding project continues in accordance with the Company's plans.
Rebranding is one of the large-scale and significant projects of GC SNS, in the framework of which the company's branches all over the country are gradually implemented updated standards for finishing and equipment of office and warehouse spaces.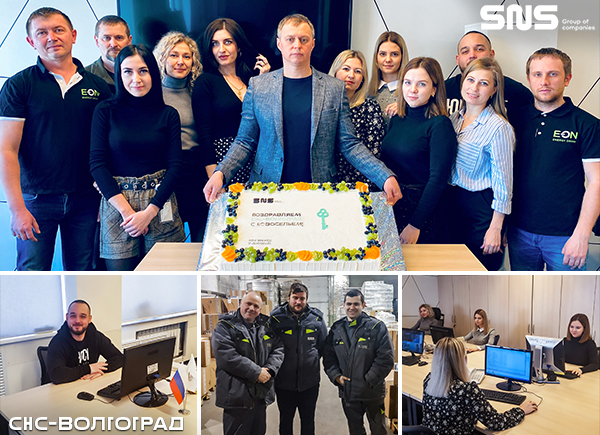 Source:
Press office of GC SNS