The implementation of the Rebranding keeps going on.
Now the SNS-Magnitogorsk team also works in the new office created in accordance with the highest standards of comfort, practicality and design.
Colleagues highly appreciated the new workspace, positively noted the housewarming with cake from the Company and were happy to share their emotions from the move:
Evgeny Stratu, General Director of the branch:
"I have no words! One delight! The new office is very cozy, everything is made efficiently and professionally. Thanks to the Company for the Rebranding and a special thanks to our colleagues, whereby participation this project was implemented in our branch in the best possible way: Konstantin Vakuev, an Engineer of Repair and Construction Group, Administrative and Technical Department, Roman Kulik, a Manager of Regional Development, Administrative and Technical Department, and Rostislav Khodzitsky, a Specialist in Engineering and Technical Means of Protection of the West Division"
Svetlana Sandyreva, Chief Accountant of the branch:
"The new office is wonderful. Everything is made efficiently!
We positively noted the housewarming with a delicious cake from the Company.
The whole branch team is happy with the move"
Ekaterina Malikova, Sales Representative:
"The office is chic, made at the highest level that our Company always does everything at :)!"
Congratulations to the team of the SNS-Magnitogorsk branch on the move!
Wish success and confident victories in your new place!
Rebranding is one of the large-scale and significant projects of GC SNS, in the framework of which the Company's branches all over the country are gradually implemented updated standards for finishing and equipment of office and warehouse spaces.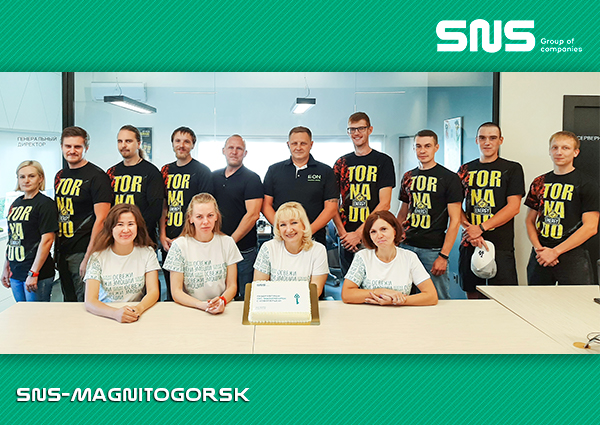 Source:
Press office of GC SNS