This spring grand techno-industrial music event SYSTEM 6.0. will take place in Saint Petersburg. Several dance floors, large-scale industrial space of the building of the former Central design Bureau of mechanical engineering, hundreds of thousands of kilometers of wires and the most modern equipment – all this will make a truly large-scale and enchanting event for all lovers of electronic music!
Oliver Koletzki – an incredibly talented, true leader of the German techno genre, who is able to turn parties into a single living mechanism, through his refined, intellectual music that resonates with almost any audience will take part in the event as headliner of the show on the first dance floor. The second headliner is a bright and powerful German band of Township Rebellion, who has rapidly gained recognition of progressive techno connoisseurs all over the world.
Errorsmith who is respected in Berlin and on world stage will be headliner of second dance floor.
In addition to the powerful impressive line-up SYSTEM 6.0 will cover the power of light and lasers company 3D Laser Show by Van Nosikov (Mehanika). The event will be also provided with Quiet chilling zone, Smoking areas and a small food court area.
Location:
Art Play, Saint Petersburg, Krasnogvardeiskaya Square, 3
More about the party:
VK
FACEBOOK
Join the night with E-ON ENERGY DRINK!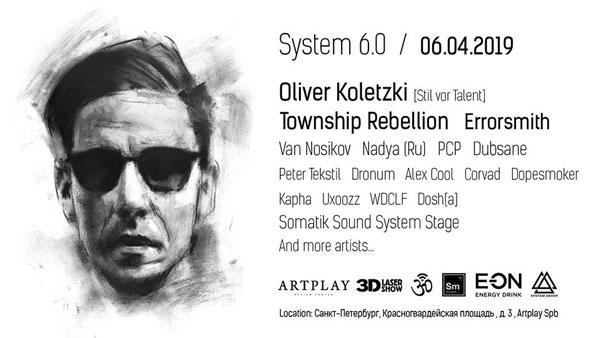 Source:
GC SNS Press Service