In GC SNS continues active implementation the Rebranding project. In March two branches at once SNS-Pyatigorsk and SNS-Shakhty moved to new workspaces created with the highest standards of comfort, practicality and design.
Of course, there was already a pleasant tradition - a housewarming party with a delicious branded cake!
Colleagues highly rated the new workspaces and shared their impressions with pleasure:
SNS-PYATIGORSK
Aleksandr Monastirev, General Director of the branch:
«From the move the whole team is on the positive side! The office is spacious and modern, everything is done efficiently. Thank you very much and separately to Sergey Lozin (Deputy Director of ATD in the repair and construction issues) for our move and for all our wishes with regards to location, the new office premises and other nuances have been taken into account and implemented in practice!»
Olga Sigacheva, Chief Account of the branch:
«The move brought me and my colleagues the most positive emotions. Everything is done very qualitative and beautiful. The situation feeds the eyes every day. Especially I want to mention the spacious modern coffee point, where we can have a quiet and comfortable lunch. Thank to the Company!»
Oleg Jijkun, Warehouser:
«Good warehouse: more space, excellent floors and lighting. I also like the office: beautiful and modern!»
SNS-SHAKHTY
Andrei Korolev, General Director of the branch:
«Great new office! Lots of space, stylish design. The whole team is very happy with the result»
Olga Sokolova, Secretary:
«The new office is so good that it is now doubly pleased to come to work every day:). We are now located in the center of the city, what made it easier for me and my colleagues to get to work »
Nina Chudnenko, Sales Representative:
«We were really looking forward to the move, and the result made us all happy! The office is beautiful, stylish and comfortable. I like the new furniture, equipment and generally how everything is organized. Our team enjoys the new office:)»
Congratulations to the branch teams on the move! We wish you positive and drive and of course big victories in a new place!
Realization of the Rebranding project is continuing in accordance with the Company's plans.
Rebranding is one of the large-scale and significant projects of GC SN. In the context of this project the new standards of repair and equipment of office and warehouse implement in the branches of the Company all over the country gradually.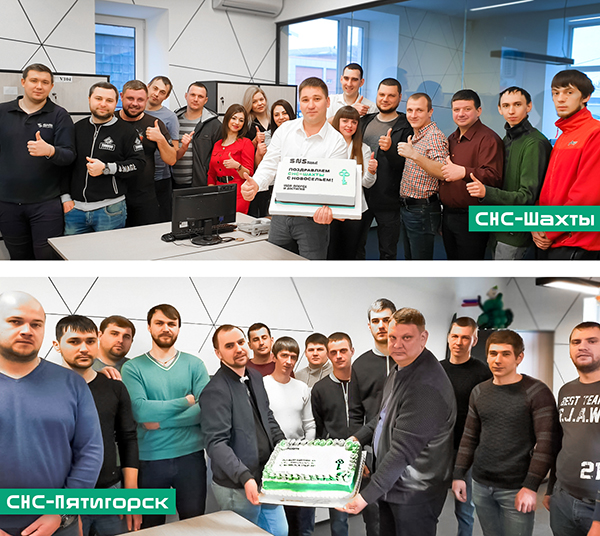 Source:
GC SNS Press Service