E-ON once again powerfully declared itself in the territory of sports, updating the packaging design of the unique product for the RF market E-ON BCAA 2000 SPORT SUPPORT (now the design is even closer to the sports theme and the product is even more noticeable on the shelf due to the increased juiciness of colors), and also launched two grand new products – E-ON BCAA 3000 SPORT SUPPORT and E-ON BCAA 5000 SPORT SUPPORT!
Compared to the already available product line E-ON BCAA 2000, the new products have increased the dosage of BCAA amino acids, that contributes to achieving greater results in physical activity:
E-ON BCAA 3000 SPORT SUPPORT contains no sugar, BCAA dosage 3000 mg - for amateurs and skilled sportsmen;
E-ON BCAA 5000 SPORT SUPPORT contains no sugar, the dosage of BCAA 5000 mg-great for those who want to build muscle mass!
All 3 drinks contain essential amino acids BCAA, vitamins and also caffeine and ginseng, that increases the duration and intensity of training sessions, accelerates the recovery of the body after physical exertion, and also gives vigor and reduces the sense of fatigue.
Thus, now E-ON presents a full line of innovative functional BCAA SPORT SUPPORT products, among them everyone will find a flavor for themselves.
After all, the new products are suitable for daily rater consumption, as well as for consumption before, during and after a workout!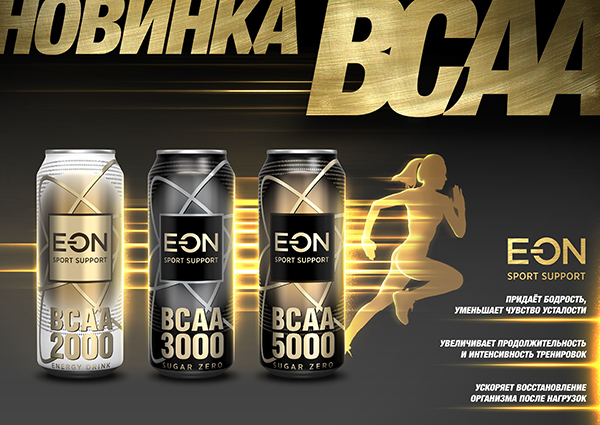 Source:
Press office of GC SNS