On April 21 in St. Petersburg, with the support of E-ON ENERGY DRINK, the festival 'Abstrasention' will take place, which will unite the atmosphere of the 19th century with the sound of actual electronics.
Program:
'Abstrasention' is the first large-scale festival in Russia and an atmospheric electronic music label that unites performers in such areas as bass, ambient, downtempo, idm, future garage, glitch and many others.

Long Arm [dj-set], Quok (Prague), Sibewest (Kemerovo), Ghostek, Inchange (Vladimir), Woodmood, Menual (Tver), Playfulfingers (Arkhangelsk), Bachiksma, Schellc, Adams, Delicate Features will perform at the festival. The level of these participants is comparable in many respects and even superior in the skill of the European colleagues.
Within the framework of 'Abstrasention', the accent will be made on large-scale visual projections from the leading media artists of St. Petersburg with live sets of well-proven domestic projects.
The presentation of the documentary 'Intervals' about the music project Quok from Prague with the author's comments will open the festival.

Location:
Golitsyn Hall, St. Petersburg, the Fontanka River embankment, 20
More about the festival: VK | FB
Turn on the night with E-ON ENERGY DRINK!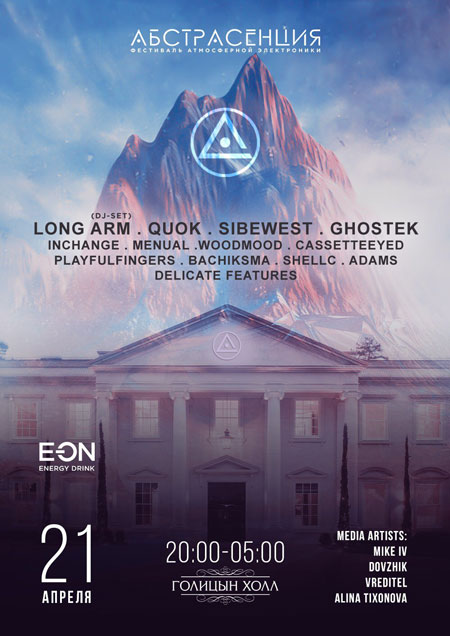 Source:
GC SNS Press Service